Scottish gin cocktail with lime juice, fresh ginger and lemonade. Shaken and served with mint.
Edinburgh Mule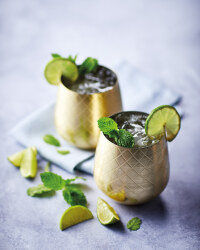 Recipe Information
Ingredients
75ml Eidyn Scottish Premium Gin
25ml fresh Lime Juice
2 tsp fresh Root Ginger, chopped
150ml Lemonade
Ice Cubes
Lime Peel and fresh Mint, to garnish
Paper Straws
Method
Mix the Scottish premium gin, lime juice and fresh ginger in a cocktail shaker with some ice and shake vigorously for a few minutes.
Fill 2 glasses or small copper tankards with crushed ice.
Strain the cocktail between the 2 glasses and top with the lemonade.
Garnish with lime and mint. Add a straw and serve.