Shepherd's pie filled with haggis and topped with a blend of potato and swede mash.
Haggis Shepherd's Pie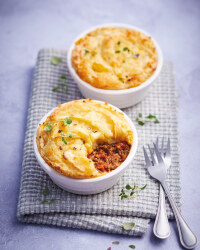 Recipe Information
Ingredients
Vegetable Oil, for frying
1 small Onion, chopped
1 Carrot, chopped
1 Celery Stick, chopped
1 small Haggis, about 454g (see tip)
400g can Chopped Tomatoes
125ml Red Wine
½ Swede, peeled and cut into chunks
2 large floury Potatoes, such as Maris Piper, peeled and cut into chunks
Large knob of Scottish Butter, plus extra melted Butter for brushing
Splash of Scottish Whole Milk
75g Scottish Cheddar, grated
Fresh Parsley, chopped to serve (optional)
4 individual pie dishes or 1 larger baking dish
Method
Heat the oil in a large, deep frying pan, then add the onion, carrot and celery and cook over a medium heat for 10 minutes until softening.
Meanwhile, remove all the packaging from the haggis and cut it into chunks. Put in a microwave-safe bowl and cook in the microwave for half the microwave cooking time, according to the pack instructions.
Add the warm haggis pieces to the veg in the pan and fry for 2-3 minutes.
Add the chopped tomatoes and red wine, then bring up to a simmer and cook for 30 minutes.
Meanwhile, put the swede and potatoes in 2 separate pans of cold salted water, then bring to the boil and simmer until soft. The swede will take longer than the potatoes.
Drain both veg well and return to their pans for a few minutes to steam dry.
Mash, then add the 2 together and beat in the butter and milk until smooth and combined. Taste for seasoning.
Heat the oven to 200ºC/180ºC Fan/Gas Mark 6.
Once the haggis sauce is rich and thickened, divide evenly among 4 individual pie dishes or put it in 1 larger baking dish.
Top with the mashed veg, brush all over with melted butter, then sprinkle with grated cheddar.
Finish in the oven for 20-25 minutes until golden on top and bubbling around the edges.
Serve sprinkled with a little chopped parsley, if you like, on its own or alongside your favourite green veg.
Tip:
You can replace the meaty haggis with a veggie one.