This Kale and Red Pepper Wellington makes a delicious alternative Sunday roast!
Kale and Red Pepper Wellington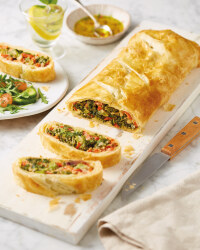 Recipe Information
Ingredients
200g pack Curly Kale
2 Red Pointed Peppers
1 large Red Onion
2 cloves Garlic
2 Medium Eggs
100g Soft Cheese
60g Grated Lighter Mature Cheddar Cheese
1 x 375g pack Ready Rolled Puff Pastry
1 tsp Paprika
1 tsp Milk
Sea Salt and Black Pepper
1 large baking sheet, greased with some olive oil
Method
Pre-heat the oven to 200°C/400°F/Gas Mark 6.
Wash the kale and dry well. Cut the red peppers in half lengthways and discard any seeds, slice thinly. Peel, half and slice the red onion. Peel and mince the garlic.
In a large frying pan or wok, sauté the onion, garlic and peppers in the oil for about 5 minutes. Add the kale and cook on a low heat until the kale has wilted. Tip all the contents into a large sieve and push out any excess moisture, then allow to cool.
Meanwhile crack the eggs into a bowl and whisk well. Put 2 teaspoons of the beaten egg to one side. Add the soft cheese, grated cheese and paprika to the egg, season with some salt and black pepper and mix well. Mix this egg mixture with the kale mixture.
Roll out the pastry on the greaseproof paper. Put the kale mixture in the centre of the pastry, but not right up to the end. Roll the ends over the mixture, then roll over the sides to form a large oblong parcel. Use some of the whisked egg to seal the bottom where the pastry overlaps. Carefully turn the parcel over and onto the greased tin, so that the seam is at the bottom. Mix the remaining egg with the milk and brush over the parcel. Cut a few slits in the top with a sharp knife.
Bake in the oven for 20 minutes, until it is golden brown.