These wholesome oats are a wonderfully warming breakfast option.
Overnight Oats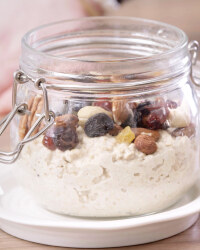 Recipe Information
Ingredients
50g Oats
100ml Almond Milk, Yogurt or Water
Handful of dried fruit
Handful of nuts
Method
Mix 50g of oats with 100ml of Almond Milk/yogurt or water.
Add in your choice of Spices or dried fruit, pop into a glass jar or airtight container and let the oats soak for at least 3 hours or overnight.
In the morning, add fresh fruits, nuts or your favourite toppings.