Delicious salad perfect for Spring time.
Peach and Parma Ham Salad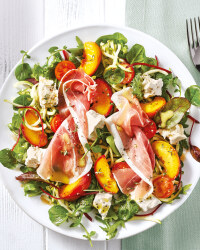 Recipe Information
Ingredients
Salad:
4 slices Parma ham
200g Greek feta cheese broken into rough 3cm chunks
1 medium spiralized courgette
10 cherry vine tomatoes cut into halves
Half a bag of superfood salad leaves
2 peaches
3 tbsp cider vinegar
2 tbsp light brown sugar
Dressing:
2 tbsp cider vinegar
2 tbsp extra virgin olive oil
2 tsp runny honey
2 tsp Dijon mustard
1 pinch chopped fresh thyme
A few grinds of black pepper
Method
Divide and arrange the ham, feta chunks, courgette spirals and tomatoes on 2 plates.
Cut the peaches in half and twist to remove the stone.
Cut each half into 4 segments.
In a bowl place the peach segments and mix with the brown sugar.
Place a frying pan on a medium heat and add the peach segments.
Gently turn the segments in the pan until the sugar starts to caramelise.
Add the cider vinegar and remove from the heat.
The vinegar and caramelised sugar will make a rich sweet and tangy sauce.
Leave to cool slightly.
To make the dressing, combine all ingredients into an empty jar with lid and shake vigorously until smooth and combined.
Scatter the warm peach segments with a drizzle of the sauce over the salad and then add as much dressing as you wish.
Finish with a few extra grinds of black pepper and some fresh thyme leaves.