One of the nicest things about springtime is the opportunity it brings to tuck into fresh Scotch lamb. But, instead of settling for mint sauce and gravy, why not try tender steaks with a herby, creamy twist? It may just become one of your favourite seasonal recipes.
Roasted Lamb Steaks with Crushed New Potatoes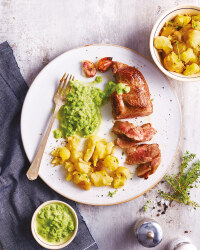 Recipe Information
Ingredients
Roast lamb:
4 Scotch Lamb Leg Steaks
2 Cloves of Garlic, crushed open with the skin still on
Sprig of Fresh Thyme
30g Scottish Salted Butter
Sea Salt and Black Pepper
Crushed new potatoes:
16 New Potatoes
30g Scottish Salted Butter
Fresh Thyme Leaves
Pea puree:
150g Frozen Peas
20g Onion, finely chopped
60g Scottish Salted Butter
50ml Scottish Double Cream
50ml Scottish Milk
50ml Boiling Water
½ Chicken Stock Cube
Method
1. Pre-heat the oven to 200°C/400°F/Gas Mark 6.
2. Cook the potatoes in salted water until tender, drain and crush slightly with a fork. Put into an ovenproof dish, along with the butter and some thyme leaves. Cover with foil and pop into the oven.
3. Next, heat a non-stick frying pan, add the steaks and brown them on each side, before placing into a roasting tin with the garlic, butter, thyme and a little salt and black pepper. Roast for 9 minutes.
4. Meanwhile, gently fry the chopped onion in a little butter until opaque. Then add the boiling water, stock cube, milk, cream and the peas. Bring to the boil, cook for 5 minutes and blend to a pulp.
5. Serve the lamb alongside the pea purée and potatoes.