Crispy sausage rolls with a tangy tomato and chilli salsa. Brilliant party food.
Sausage Rolls with Salsa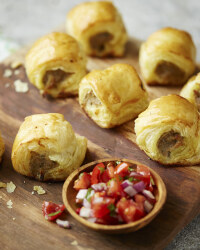 Recipe Information
Ingredients
Sausage Roll Ingredients:
375g pack Ready Rolled Greenvale Puff Pastry
1 pack Specially Selected British Pork Sausages
1 tsp Bramwells English Mustard
1 Egg, beaten
Salsa Ingredients:
1 pack Cherry Tomatoes
½ Red Chilli
1 small Red Onion
1 Garlic Clove
5 Basil Leaves
1 tbsp Solesta Olive Oil
1 tsp Salt
1 tsp Pepper
Method
First, use scissors to remove the sausage meat from the skins and add the mustard then mix until it is well combined.
Pre-heat the oven to 200°C/400°F/Gas Mark 6, then cut the ready rolled pastry lengthways into two long strips and spread half of the sausage meat in a long strip down one side of each of the prices of pastry.
Then fold the empty half of the pastry over the sausage meat and use a folk to seal the edge.
Next, cut each long sausage rolls into 8 to make mini sausage rolls. Brush them with the beaten egg and sprinkle some pepper over them and bake for 20-30 minutes until the pastry has puffed up and the sausage meat is cooked through.
To make the salsa, roughly chop together the tomatoes, garlic, red onion, chill and basil and stir through the olive oil, salt and pepper.
Serve the salsa with the sausage rolls at your picnic.