Homemade Scottish chicken soup with haggis, chunky vegetables and Scottish double cream.
Scottish Cream of Chicken and Haggis Soup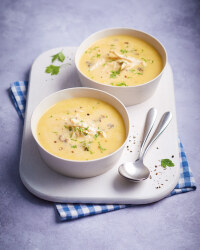 Recipe Information
Ingredients
1 x 1.3kg Scottish Whole Chicken
200g Haggis
2 Chicken Stock Cubes
2 Sticks Celery
2 Brown Onions
200g Swede, peeled
500g Maris Piper Potatoes, peeled
300g Carrots, peeled
12 Black Peppercorns
3l Water
150ml Scottish Double Cream
Sea Salt and Black Pepper
Method
Peel the onions and cut into quarters.
Wipe the celery and cut into chunks.
Put the chicken in a large saucepan along with the onions, celery and peppercorns.
Pour over the water, crumble in the stock cubes and bring to the boil.
Then cover and simmer for 60 minutes.
Check the chicken is cooked, then remove, leaving the onions and celery in the soup.
Roughly chop the potatoes, carrots and swede and add to the pan.
Season with some salt and black pepper.
Bring back to the boil and simmer, covered, for 40-50 minutes, or until the vegetables are very tender, then liquidise.
While the vegetables are cooking, strip all the meat from the chicken.
Cook the haggis as per instructions and add this and the strips of chicken back to the soup. Add the cream, heat through gently and serve.