Sweet shortbread biscuits filled with jam and topped with icing and a cherry half.
Scottish Empire Biscuits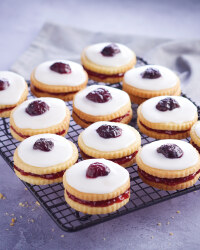 Recipe Information
Ingredients
For the Biscuits:
400g Scottish Unsalted Butter, softened
200g Caster Sugar
200g Cornflour, sifted
400g Plain Flour, sifted
340g Specially Selected Scottish Raspberry Preserve
950g Icing Sugar
125ml Scottish Milk
For the Candied Cherries:
24 fresh Cherries, pitted
180ml boiling Water
100g Caster Sugar
5ml Lemon Juice
Method
First make the cherries. Put the cherries in a large pan or wok with the sugar, lemon juice and boiling water.
Gently bring to the boil, stirring as you cook, then simmer on a low heat, uncovered for 25 minutes.
Stir occasionally as you cook, as the syrup becomes thick and can burn.
Let the cherries cool in the syrup for 20 minutes.
Then, with a slotted spoon, remove them and put on some non-stick paper to cool completely.
Now make the biscuits. Preheat the oven to 180°C/Gas Mark 4.
In a large bowl, cream together the butter and sugar until light and fluffy.
Gradually stir in the flour and cornflour until well blended.
Lightly flour the work surface – roll out the dough to a 5mm thickness.
Cut out circles with a 6cm cookie cutter - you need 96.
Bake in batches on a non-stick baking sheet for 8-10 minutes.
Then allow to cool on baking trays for 5 minutes before moving to wire racks to cool completely.
Sandwich a small teaspoon of jam between 2 biscuits.
In a medium bowl, mix together the icing sugar and milk to make a spreadable icing.
Spread this on top of the biscuit sandwiches.
Cut the candied cherries in half and place a half on each biscuit while the icing is still wet.