A great mid-week dish inspired by summer
Summer Spaghetti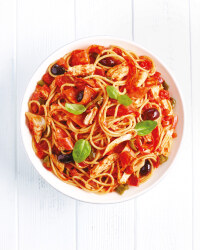 Recipe Information
Ingredients
1x 410g pack British Chicken Mini Fillets
1x 120g pack Spanish Chorizo Slices
400g Spaghetti
1x large Red Onion
1x Green Pepper
1x 400g tin Chopped Tomatoes
2 x cloves Garlic
1x dessert spoon Specially Selected Rosso Pesto
1x Chicken Stock Cube, dissolved in 150ml boiling water
50ml Olive Oil
20 x Black Olives
1 x tsp Chilli Powder
1 x tsp paprika
Sea Salt and Black Pepper
Fresh Basil Leaves
Method
Peel the red onion, cut in half and chop finely.
Peel and mince the garlic.
Cut the pepper in half, remove seeds and white pith and chop finely.
Cut the chicken fillets in half
In a large frying pan, sauté the onion in the olive oil for a few minutes.
Add the chicken fillets, garlic, chopped pepper and cook a few more minutes.
Then add the tinned tomatoes, pesto and the stock.
Sprinkle over the chilli powder and paprika, then season with some black pepper and a little salt.
Bring to the boil, then cover and simmer gently while you cook the spaghetti.
Cook the spaghetti in boiling salted water as per the instructions on the pack.
Drain well when cooked.
Cut the chorizo slices in half.
Add the spaghetti to the tomato sauce along with the chorizo and the olives.
Heat through and serve garnished with some fresh basil leaves.