Serving up a soufflé doesn't need to be scary. These can even be frozen until you're ready to wow at your next dinner party.
Twice Baked Caledonian Blue Cheese Soufflés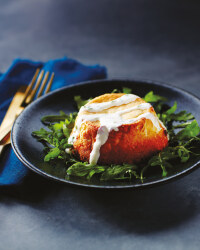 Recipe Information
Ingredients
150g Specially Selected Caledonian Blue Cheese
225ml Scottish Milk
40g Scottish Butter
40g Plain Flour
1 tsp Dijon Mustard
3 Scottish Large Free Range Eggs, separated
100ml Scottish Double Cream
25g Parmigiano, grated
3g Fresh Chives
Sea Salt and Black Pepper
A little Sunflower Oil
1 bag Watercress or Rocket Leaves
4 Ramekin Dishes
Method
Pre-heat the oven to 180°C/350°F /Gas Mark 4.
Melt the butter in a small saucepan. Add the flour and cook gently for a minute. Slowly add the milk, stirring as you cook.Add the mustard and cook for 2 minutes until you have a smooth sauce. Season and crumble in the cheese and whisk in the egg yolks.
Remove the pan from the heat and allow the cheese to melt. Whisk the egg whites until stiff. Gently fold the cheese sauce into the egg whites. Lightly grease the ramekins with a little oil and divide the mixture into each. Place in a small roasting dish – pour boiling water until it comes half way up the sides of the ramekins.
Bake in the oven for 20-25 minutes until risen and lightly browned.
Allow to cool completely, then gently ease out the soufflés from the pots and keep aside. You could even freeze them at this point if you wanted to make your soufflés well in advance. Allow to defrost thoroughly prior to their second bake.
When ready to serve, place on a tray back in the oven for 20 minutes for a second bake.
For the sauce:
Sauce Finely chop the chives add to the cream and Parmigiano in a saucepan and gently heat.
Serve the soufflés on a bed of leaves and drizzle with the sauce.