Gourmet stir-fry dish with juicy prawns and succulent chicken strips.
Braised Greek Prawns with Chicken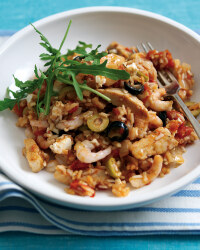 Recipe Information
Ingredients
2 tbsp extra virgin olive oil
1 large onion, peeled and finely chopped
2 tsp dried oregano
2 cloves garlic, peeled and roughly chopped
400g pack frozen chicken strips
1 can chopped tomatoes with herbs in juice
50g black olives chopped
50g green olives chopped
200g long grain rice
1 chicken stock cube
½ litre boiling water Coarse ground black pepper
200g frozen large prawns (½ pack) – defrosted
100g Feta cheese, chopped finely
Method
Pre-heat the oven to 190°C, gas mark 5.
Heat the extra virgin olive oil in an ovenproof pan, then add the onion, oregano and garlic, and then cook for 5 minutes.
Add the frozen chicken strips, the can of tomatoes, olives and really mix well.
Then add the rice, crumbled stock cube and enough boiling water to just cover all the ingredients.
Season well with coarse ground black pepper.
Bring the saucepan to the boil, stir well, then cover and place into the pre-heated oven.
Cook for 20 minutes, or until all the rice has absorbed the liquid.
Remove from the oven, fluff up with a fork, and then stir in the defrosted prawns and feta cheese. Leave for 5 minutes to warm the prawns and feta cheese through, this will make sure that the rice fluffs up better.
Check the seasoning and serve.