Create the perfect final festive favourite with our classic Christmas pudding recipe.
Christmas Pudding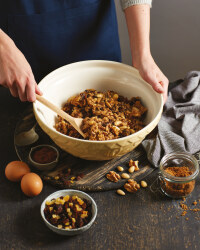 Recipe Information
Ingredients
350g The Pantry Mixed Dried Fruit
100g The Pantry Soft Prunes, chopped
100g The Pantry Glacé Cherries, halved
100g The Pantry Dark Brown Soft Sugar
100g The Pantry Chopped Walnuts
100g The Pantry Blanched Almonds
100g The Pantry Ground Almonds
100g White Breadcrumbs, freshly made
50g The Pantry Plain Flour
1/2 tsp Ground Ginger
1 tsp Stonemill Ground Cinnamon
2 tsp Stonemill Mixed Spice
100g Greenvale Butter, straight from the fridge or preferably frozen
3 large Merevale Eggs, beaten
4 tbsp Napoleon Brandy
100ml Rio D'Oro Apple Juice
Baking paper
Foil
String
Method
Grease a 1.2 litre/2 pint pudding basin with a little extra butter.
Mix together all the dry ingredients - fruit, sugar, nuts, breadcrumbs, flour and spices.
Grate the cold butter into the dry ingredients.
Mix together the beaten eggs, brandy and apple juice and add to the mixture.
Stir well until combined.
Turn the mixture into the basin.
Cover the basin with a sheet of baking paper which has a pleat across the centre.
Cover this with a sheet of foil which has a pleat across the centre, aligning the 2 pleats.
Tie securely onto the basin with string.
Place an upturned saucer in the bottom of a large pan and use a folded strip of foil to lower the pudding onto the saucer.
Add boiling water from the kettle to come around 1/3 up the side of the basin.
Put the lid on the pan.
Bring to the boil then reduce to a gentle simmer.
Steam for at least 6 hours.
Check the pan regularly and top up with boiling water as necessary.
DO NOT ALLOW THE PAN TO DRY OUT.
Allow the cooked pudding to cool and then store in a cool, dry place.
To re-heat, steam again as above for around 2 hours.
Alternatively, re-heat in a microwave, but remember to remove the foil first.