A scrumptiously spicy jam that will go perfectly on your winter cheese board.
Clementine Chilli Jam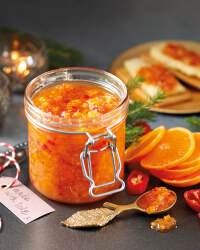 Recipe Information
Ingredients
6 x Clementines
30g fresh Ginger, peeled and grated
15g fresh Red Chilli
1 x large Clove Garlic, peeled and minced
500ml Water
1 x heaped tsp Mixed Spice
300g Granulated Sugar
Juice x 1 Lemon
Method
Peel the clementines. Finely chop the skin and chop the flesh. Put into a large pan, along with the grated ginger and the garlic.
Finely chop the red chilli, along with the seeds and add to the pan. Pour over the water and sprinkle in the mixed spice.
Bring to the boil and simmer for 25 minutes. Then add the sugar and the lemon juice.
Stir well and then bring to the boil again and simmer for 20/25 minutes until the jam is thick. Transfer to 2 sterilised Kilner-type jars – allow to cool, then seal.