A classic homemade toffee apple recipe that anyone can make at home.
Homemade Toffee Apples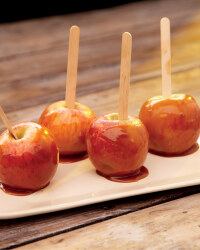 Recipe Information
Ingredients
6 x Funsize Apples
1 x 200g bag Dominion Dairy Toffees
20ml Milk
Method
Take the toffee out of the wrappers.
Put into a large bowl and add the milk.
Microwave the toffee for 5-8 minutes until melted, stir well.
Put the apples onto lollipop sticks or skewers and dip into the melted toffee, stir round until well coated.
Repeat with the others, returning the toffee back to the microwave for a minute or so if it becomes too hard.
Put into the fridge to set hard.