Pinwheel Cookies with jam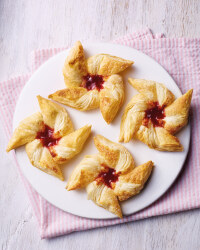 Recipe Information
Ingredients
1 x pack 375g ready rolled puff pastry
90g jam – raspberry, strawberry or apricot
1 x medium egg yolk – whisked
25g granulated sugar
Method
Unroll the pastry and cut into 6 x 10 cm squares.
Using a sharp knife, make a 4cm diagonal cut in all four corners of each square, cutting towards the centre.
To form the pinwheels, fold every other point of puff pastry toward the centre – pressing down gently until they stick.
Brush the pinwheels with egg wash and sprinkle over the granulated sugar.
Put a teaspoon of your chosen jam in the centre of each, place on a baking sheet.
Bake for 10-12 minutes until golden and risen.