​Aldi and Team GB challenged young people aged 5–14 to get creative and design an original recipe, inspired by Team GB. Megan, aged 12, was voted the winner in the 11-14 age category and the overall winner. Her recipe is a delicious steak and vegetable stir fry in an Asian Oyster & Spring Onion sauce served with Basmati rice. A quick and easy dish to prepare and cook - essential after a gruelling training session.
11-14 YO - Megan (12) - Team GB Olympic Ring Stir Fry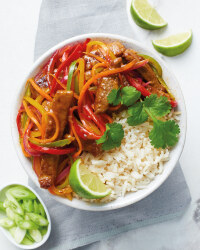 Recipe Information
Ingredients
500g Steak
1 x Green Pepper
1 x Red Pepper
1 x Yellow Pepper
½ Onion, sliced
2 x Cloves Garlic, crushed
1 x tbsp Sunflower Oil
1 x tsp grated Ginger
2 x Carrots
Handful of Iceberg Lettuce Shredded
1 x tbsp Cornflour
2 x tsp Sugar
1 x tbsp White Wine Vinegar
1 x 120g Asian Oyster and Spring Onion Sauce
300g Basmati Rice
100ml Coconut Milk
Method
Heat 1 tbsp sunflower oil on medium heat in a wok.
Cut up the steak into 1cm strips, coat in cornflour and fry until golden (approx. 5 mins).
Slice peppers into rings, add to wok and fry for a few minutes.
Add onion, garlic and ginger to wok, sauté until softened.
Slice carrot thinly add to wok and fry until soft.
Add lettuce.
Add Asian Oyster and Spring Onion sauce, coconut milk, white wine vinegar and sugar, simmer for a few minutes and then take off the heat.
Meanwhile cook the rice and once ready serve alongside the stir fry.
How is your recipe inspired by Team GB?
I have chosen ingredients which represent colours of the Olympic Rings: red - peppers, yellow - peppers, green - peppers, black and blue - sauce. This recipe is suitable for athletes of many Olympic sports, but I've focused on taekwondo as athletes on the GB team have inspired me on my own taekwondo journey. I've also chosen foods which start with the first letter of the five taekwondo tenets. Indomitable spirit - iceberg lettuce, perseverance - peppers, self-control - steak and courtesy - carrot.