Aldi and Team GB challenged young people aged 5–14 to get creative and design an original recipe, inspired by Team GB. Theo, aged 6, was voted the winner in the 5-7 age category. Tasty, fruity and healthy power cookies – a great source of energy!
5-7 YO - Theo (6) - Power Cookies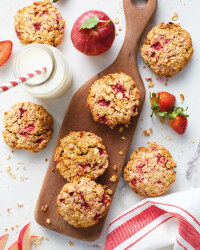 Recipe Information
Ingredients
1 x Large Apple
A handful of Raisins
3 x Big Strawberries
250g Porridge Oats
2 x teaspoons of Coconut Oil
2 x big squirts of Honey
Method
Peel, core and chop the apple.
Chop the strawberries and mix with the apple.
Mix in with all the other ingredients.
Use your hands to make it cookie shaped and put it on a baking tray.
Put them in the oven at 180 degrees and cook for twenty minutes.
Let them cool - then eat them!
How is your recipe inspired by Team GB?
It has strawberries and apples which are British. It is healthy. They can give you energy so you can do sports.