Tea party anyone? Serve these quick and delicious homemade doughnuts.
8 Delicious Doughnuts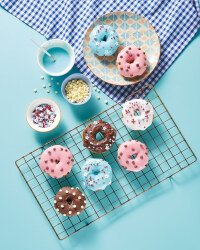 Recipe Information
Ingredients
For the doughnuts
300g Plain Flour
25g Baking Powder
50g Caster Sugar
½ tsp. Salt
50g Butter
1 Medium Egg
100ml Unsweetened Almond Milk
1 tsp. Vanilla Extract
For the toppings
200g Icing Sugar
Food Colouring
200g Dark Chocolate
Chocolate Chips/Sprinkles
Vegetable Oil
Method
Sieve flour and baking powder into a bowl and add the caster sugar and salt then stir until combined.
Melt the butter in the microwave and leave to cool then add the egg, vanilla extract and almond milk.
Add the liquids to the dry ingredients and mix until a soft dough forms.
Wrap the dough in cling film and leave to rest in the fridge for 30 minutes.
Divide the dough into 8 pieces – roll each into a smooth ball and flatten to about half an inch thick then press through the centre and stretch out to make an inch sized hole in the middle (this will shrink when fried).
Heat the oil to 180C.
Fry for 2 minutes then flip over to cook the other side until golden then place on a wire rack.
Split the icing sugar between 2 bowls and add 1-2 tbsp. of cold water to each to make a thick icing.
Add a drop of food colouring to each bowl.
Melt the chocolate in 20 second blasts in the microwave.
Dip the doughnuts in the icing or chocolate and then sprinkle over the chocolate chips or sprinkles.
Serve immediately.