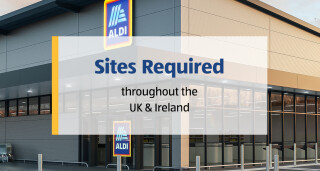 Our sustained growth means we are continually expanding our property portfolio to help achieve our ever-growing goals for 2022. We have ambitious acquisition and development plans beyond that and are looking to acquire sites that meet the following property criteria for our standard store format.
Site Requirements
We prefer to purchase freehold, town centre or edge of centre sites suitable for property development in towns with a population of 15,000 or more. We are willing to explore all opportunities including developer led schemes and existing or new retail units. Our yield profile is increasingly adding value to developments.
Your Fees
Typical agent fees are 1.5% of the purchase price (freehold) or 10% of the annual rent (leasehold) finder's fee*
Fees regarding the acquisition of portfolio purchases can be discussed and agreed from the outset.
*Acting as our agent on previously unknown sites.
Download our guides
If you would like to find out more about Aldi, our property requirements, where we are looking for sites or how our stores benefit their local communities please download one of our guides.