A spicy, fresh, minty cocktail we like to call the Apple on Top.
Apple on Top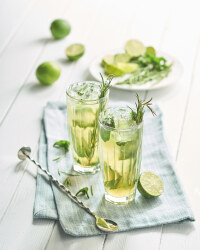 Recipe Information
Ingredients
50ml spiced rum
20ml fresh lime juice
1 tbsp sugar
Handful of mint
Rosemary
Apple juice
Method
Add the sugar, lime, mint and rum into a long glass.
Stir until sugar dissolves.
Add a sprig of rosemary and stir.
Half fill with apple juice and stir.
Add more ice, top with more apple juice, and disperse the mint leaves.
Burn a rosemary sprig as a garnish.