Apple Pie on the Rocks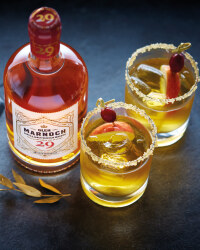 Recipe Information
Ingredients
35ml Vodka
35ml Whisky
140ml Apple Juice
Drop of Vanilla Extract
Pinch of Ground Cinammon
50g Brown Sugar
1 Apple (sliced thinly)
Handful of ice cubes
Method
Dip the edge of your glass in water and then the brown sugar to create a rim.
Fill the glass with ice.
Combine the vodka, whiskey, apple juice, vanilla extract and cinnamon in a shaker, shaking for about 30 seonds until well mixed (if you don't have a shaker, give it a good stir in a tall glass).
Pour over the ice in the glass and serve with a slice of fresh apple as a garnish.