Simple yet wonderfully tasty. This homemade cake recipe will sort out your lazy Sunday.
Apricot & Walnut Cake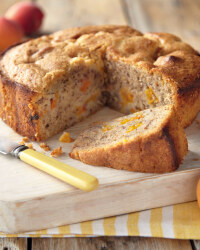 Recipe Information
Ingredients
200g Sliced Apricots
185g The Pantry Caster Sugar
55g The Pantry Walnut halves, finely chopped
3 Merevale Large Free Range Eggs
185g Greenvale Perfect for Cakes Soft Spread
125g The Pantry Self- Raising Flour
Find your ingredients online on Click & Collect or find your nearest store using our Store Finder.
Method
Preheat the oven to 180°C/350°F/Gas Mark 4.
Add the flour, spread, walnuts and sugar to a bowl and mix well.
Add the eggs 1 at a time whilst mixing.
Line the bottom of a cake tin with a non-stick baking sheet and grease the sides.
Put the mixture into the tin, placing the apricot slices on top.
Bake in the oven for 25-30 minutes until it is golden, risen and set.
Serve warm with crème fraîche or cold with fresh coffee.