Juicy chicken breast stuffed with soft cheese and lemon, topped with asparagus tips.
Asparagus Stuffed Chicken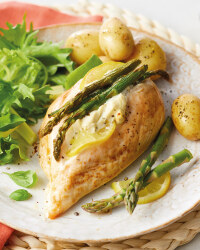 Recipe Information
Ingredients
4 x Chicken Breasts
12 x Asparagus Tips
120g Garlic and Herb Soft Cheese
1 x Lemon
30ml Olive Oil
Sea Salt and Black Pepper
Method
Pre-heat the oven to 200°C/Gas Mark 6.
Make a deep slit into the top of each chicken breast, but don't cut straight through. Divide the soft cheese into 4 and put this into the cuts in the chicken.
Slice the lemon in half lengthways and then slice each half. Put a couple of slices into the cuts on each breast. Top each breast with 3 asparagus tips.
Put the breasts onto a greased baking sheet. Drizzle over some olive oil, season with some salt and pepper and roast in the oven for 20 minutes.
Great served with new potatoes and a crisp green salad.