Fruity and refreshing jelly jars. Great for summer parties.
Austin's Jelly Jars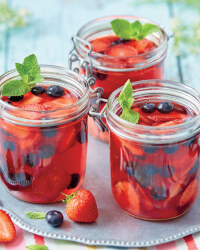 Recipe Information
Ingredients
2 Sachets Delicious Desserts Strawberry Flavour Sugar-Free Jelly Crystals
370ml Austin's Summer Punch
570ml Boiling Water
100ml Cold Water
400g Strawberries, sliced
150g Blueberries
Find your ingredients online on Click & Collect or find your nearest store using our Store Finder.
Method
Place half the strawberries and blueberries evenly between the jars.
Pour the jelly crystals into the boiling water and stir until they have dissolved.
Add the Austin's Summer Punch and cold water to this mix and stir.*
Pour over the fruit in the jars until half full and place in the fridge to set for an hour.
When the jellies have set, evenly distribute the remaining fruit across the jars and pour the rest of the jelly over the top (this prevents all the fruit settling at the bottom).
Leave in the fridge for another 1-2 hours.
*For children, replace Austin's with 185ml of cold water.