With delicious bacon and a medley of healthy vegetables, this colourful risotto looks as good as it tastes.
Bacon, Mushroom & Asparagus Risotto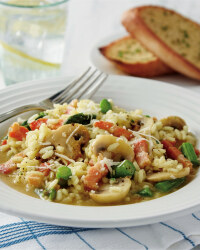 Recipe Information
Ingredients
25g Greenvale Butter
200g British Smoked Bacon Lardons
150g Asparagus, chopped into 3cm pieces
250g Mushrooms, sliced
½ tsp Stonemill Garlic Granules
300g Cucina Arborio Risotto Rice
200ml Baron Saint Jean White Wine
1 Quixo Vegetable Stock Cube
Boiling Water
1 tsp Stonemill Basil
75g Specially Selected Parmigiano Reggiano, grated
Freshly Ground Black Pepper
1 pack Cucina Garlic Toasts
Find your ingredients online on Click & Collect or find your nearest store using our Store Finder.
Method
Pre-heat oven to 200°C/Fan 180°C/ Gas Mark 6.
Melt half the butter in a large frying pan and add the lardons, asparagus and mushrooms.
Sauté for 5 to 7 minutes until the vegetables are tender.
Tip onto a plate and set aside.
Melt the remaining butter in the same pan and add the rice.
Stir until the rice grains are coated.
Add the white wine and the crumbled stock cube.
Cook the rice on a medium heat, stirring and adding boiling water a little at a time as the liquid is absorbed.
Cook until the rice is just tender and a little liquid remains (approximately 20 minutes).
Cook the garlic toasts as directed on the pack.
Stir in the basil and the cooked vegetables and lardons.
Cook for a few minutes more until piping hot.
Stir in half of the Parmesan cheese and black pepper to taste.
Serve immediately with the garlic toasts.