Succulent chicken, crispy bacon and a tasty Ratatouille sauté. Great for dinners.
Baked Bacon Chicken with Ratatouille Sauté & Rice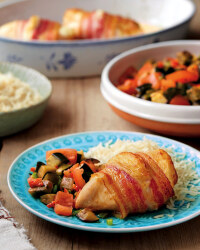 Recipe Information
Ingredients
2 x 369g packs Ready to Cook Chicken Breasts
Wrapped in Bacon with Cheese
1 Aubergine
1 pack 6 Tomatoes
70ml Solesta Extra Virgin Olive Oil
2 chillies - 1 green and 1 red
250g Bilash Basmati Rice
1 teaspoon Stonemill Dried Basil
½ teaspoon Stonemill Garlic Granules
Black Pepper
Find your ingredients online on Click & Collect or find your nearest store using our Store Finder.
Method
Preheat the oven to 190°C/375°F/Gas Mark 5.
Put the chicken breasts in the oven and cook as per instructions on the pack for 35 minutes.
Meanwhile chop the aubergine into small chunks.
Cut the tomatoes into quarters, remove the seeds with a teaspoon and chop the quarters into 3.
Cut the chillies in quarters lengthways and remove the seeds.
Chop the chillies finely.
Heat the oil in a large frying pan or wok - sauté the chopped aubergines and tomatoes for 5/6 minutes, stirring as you cook, then add the chopped chillies and cook for a further minute.
Stir in the basil and garlic granules, season with some black pepper then cook for a further minute.
Put in the oven to keep warm while the chicken is cooking.
Cook the rice as per instructions on the pack.
Serve the chicken alongside the ratatouille sauté and rice.