A soft wreath of brioche balls served with hot, oozy baked Camembert. What's not to love?
Baked Brioche with Camembert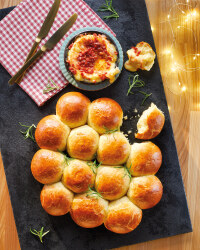 Recipe Information
Ingredients
1 x Specially Selected Baking Camembert with Chorizo
400g Plain Flour
5g Salt
45g Caster Sugar
7g Dried Yeast
250g Butter, softened
6 x Large Eggs
Method
Mix the flour, salt, sugar and yeast in a mixing bowl.
Beat 5 of the eggs with a fork and gradually add to the flour as it mixes with a dough hook. Leave to mix on a medium speed for 7 minutes. Alternatively, this can be done by hand.
Gradually add the softened butter until fully mixed in.
The dough should stick to the hook at this point.
Cover and leave to prove for 20 minutes in the fridge.
Pre-heat the oven to 190°C.
Remove the dough from the fridge and cut into 14 even pieces, then roll between the palm of your hand and the work surface to create balls.
Place on a lined baking tray, leaving space for proving – roughly 2cm between each ball.
Cover with oiled cling film and allow to prove until almost doubled in size.
Remove the cling film and brush the balls with egg wash.
Follow the instructions on the packaging to prep the Camembert.
Bake before needed or alongside the Camembert for 15-20 minutes until golden.