Baked Sweet Potatoes with Chickpeas, Spinach and Houmous Yoghurt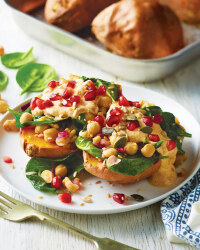 Recipe Information
Ingredients
4 medium Sweet Potatoes
1 tin Chickpeas
70g Spinach Leaves
1 small Red Onion
1 large Clove Garlic
Juice of 1 Lemon
30ml Rapeseed Oil
40g Greek Yoghurt
40g Classic Houmous
1 tsp Paprika
1 pack Pomegranate Seeds
20g Sunshine Selection Seeds
Sea Salt and Black Pepper
Method
Pre-heat the oven to 200°C/400°F/Gas Mark 6.
Wash the potatoes then prick with a fork and bake in the oven for about 45 minutes until tender when squeezed.
Mix the yoghurt, houmous and paprika in a bowl and put to one side.
Cut the onion in half and peel then chop finely.
Peel the garlic and chop finely. Sauté the onion in half the oil in a large frying pan for a couple of mins on a low heat.
Add the garlic and cook for another minute.
Drain the chickpeas and add to the pan and heat through, mashing the chickpeas a bit with a masher as you cook, then add the lemon juice and the rest of the oil.
Then add the spinach leaves and cook until slightly wilted, seasoning with salt and pepper.
Cut the cooked sweet potatoes in half.
Divide the chickpea mixture between them and spoon over the houmous yoghurt.
Sprinkle over the seeds and pomegranate and serve.