Traditional teatime favourite made with shortcrust pastry and layers of jam and frangipane, topped with flaked almonds.
Bakewell Tart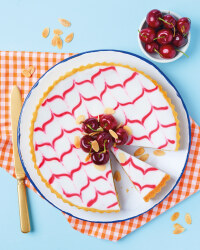 Recipe Information
Ingredients
For the shortcrust pastry
250g Plain Flour
120g Cold Butter, cubed
1 Egg Yolk
1 tbsp Icing Sugar
Approx. 2 tbsp Cold Water
Pinch of Salt
For the frangipane filling
130g Unsalted Butter, softened
130g Caster Sugar
2 Medium Eggs
130g Ground Almonds
30g Flaked Almonds
150g Specially Selected Rich Raspberry Conserve
Toppings
300g Icing Sugar
½ tsp Almond Extract
Approx. 3 tbsp Cold Water
Red Food Colouring
Method
To make the pastry, sift the flour, icing sugar and salt into a mixing bowl.
Add the butter and use your fingertips to rub it into the flour until the mixture looks like breadcrumbs and you can't see any chunks of butter.
Now, add the egg yolk and the cold water 1 tablespoon at a time and mix until a dough has formed.
When the dough comes together, wrap in cling film and leave in the fridge for 30 minutes. After 30 minutes, roll the dough out to 0.5cm thickness.
Line a 23cm fluted tart tin with the dough, cover and leave to rest in the fridge for another 30 minutes.
Pre-heat the oven to 180oC Fan/Gas Mark 6, remove the tart tin from the fridge and uncover.
Next, cover the pastry with baking paper and fill with baking beans and bake for 15 minutes.
Remove the baking paper and beans and bake for a further 5 minutes until the pastry is golden then remove from the oven.
To make the frangipane filling, cream together the butter and sugar for 3-4 minutes until smooth and fluffy.
Add the eggs, one at a time, into the butter mixture and mix until well combined, then stir through the ground and flaked almonds.
Line the base of the tart with the raspberry conserve then top with the frangipane filling.
Turn the oven down to 170oC Fan/Gas Mark 5 and bake for 25-30 minutes until the sponge has cooked through.
Make the icing topping by adding the almond extract and water to the icing sugar and stirring until combined. The icing should be thick and glossy.
Place 2 tablespoons of the icing into a small bowl and add 1-2 drops of red food colouring then place in a piping bag.
When the tart is cool, remove from the tin and top with the white icing.
Pipe straight parallel lines of the red icing on top of the white icing base, then use a cocktail stick to drag through in opposite directions to create a feathered look.
Leave the icing to set then slice and serve.