Simple, healthy and delicious.
Balsamic Steak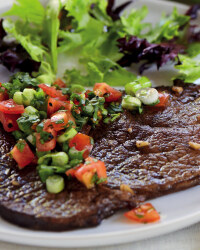 Recipe Information
Ingredients
2 380g packs Beef Medallions OR 2 360g packs Quick Fry Steaks
60ml Solesta Balsamic Vinegar
2 Cloves Garlic
80g Cherry Tomatoes
2 Spring Onions
½ Green Chilli
Juice of ½ Lime
½ pot Fresh Coriander
Black Pepper
Method
Peel and finely chop the garlic and mix with the balsamic vinegar – put this into a flat dish, put in the steaks and coat in the marinade. Put in the fridge for an hour or two.
Meanwhile, chop the tomatoes, red onion, chilli and coriander finely put in a small bowl, stir in the lime juice and mix well – season with some black pepper.
Drain the steaks then fry, griddle or grill the steaks to your liking – served topped with the salsa. Great served with a crisp green salad or new potatoes and steamed broccoli.