Banana & Blueberry Ice Cream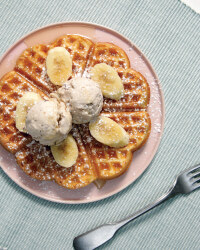 Recipe Information
Ingredients
1 x Large Ripe Banana
150ml Greek Yoghurt
200ml Double Cream
50g Icing Sugar
50g Fresh Blueberries
1 x tsp Vanilla Essence
Method
Purée the banana, blueberries and the sugar with the Greek yoghurt and vanilla essence in a food processor.
Whip the cream until stiff.
Fold the banana mix with the cream.
Put into the chilled freezer bowl and churn for about 25/30 mins.
Either serve straight away or transfer to a container and freeze.