A delicious take on a classic from across the Channel, this luxuriously sweet French treat is equally delicious enjoyed as a breakfast or a dessert.
Banoffee Nut French Toast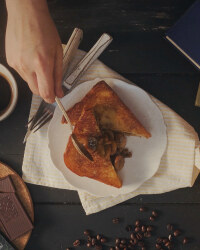 Recipe Information
Ingredients
1 ½ Cups Walnut Halves
6 Large Eggs
1 ½ Cups cream, half-and-half, or milk
2 Tablespoons Vanilla Extract
½ Teaspoon Ground Cinnamon
Pinch of Ground Nutmeg
Pinch of Salt
6 Ripe but Firm Bananas, peeled and cut into ¼ inch rounds
1 ½ Cups Brown Sugar
12 Slices of Brioche, preferably day old
8 Tablespoons Unsalted Butter
4 Tablespoons Vegetable Oil
Method
Preheat oven to 350°C. Place walnut halves on a rimmed baking sheet, and toast until lightly browned and fragrant, about 10 minutes. Set aside. When cool, chop walnuts coarsely.
Whisk together eggs, cream, vanilla extract, cinnamon, nutmeg, and salt in a medium bowl, and set aside. Combine bananas, dark-brown sugar, and toasted walnuts in another bowl. Lay out 6 slices of bread on work surface. Top each slice with 1/3 cup of the banana mixture. Top with remaining bread slices; press gently to seal the sandwiches.
Place sandwiches in a shallow baking dish (or two dishes) large enough to hold them in a single layer. Pour egg mixture over bread, and soak 10 minutes. Carefully turn sandwiches over, and soak until bread is soaked through, about 10 minutes more.
Reduce oven temperature to 250°C. Place a wire rack on a baking sheet; set aside. Heat remaining banana mixture in a small skillet over medium-low heat until sugar is melted and bananas are soft and slightly translucent, about 3 minutes. Add 4 tablespoons butter, and stir to combine; keep warm.
Heat 2 tablespoons butter and 2 tablespoons vegetable oil in a large skillet over medium heat. Fry half of the sandwiches until golden brown, 2 to 3 minutes per side. Transfer to wirerack, and place in oven while cooking remaining sandwiches. Wipe out skillet, and repeat with remaining butter, oil, and bread. Keep in oven until ready to serve. Cut into triangles, and serve with warm banana mixture.