Tasty BBQ brochettes served with crunchy slaw.
BBQ Brochettes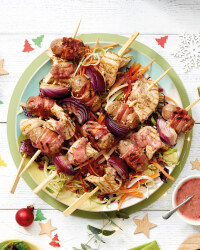 Recipe Information
Ingredients
1 x 375g pack Turkey Steaks
4 x Pork Cumberland Sausages
4 x Rashers Specially Selected Smoked Streaky Bacon
1 x Large Red Onion
50g Sprouts
100g Carrots
100g Parsnips
2 x Spring Onions
1 x Red Pointed Pepper
40g Dried Cranberries
2 x tbsp Boiling Water
Juice ½ Lemon
60ml Olive Oil
10ml White Wine Vinegar
1 x tsp Dried Oregano
Sea Salt and Black Pepper
Method
Pour the boiling water over the cranberries and leave to soak.
Cut the sausages in half and wrap each piece with a slice of bacon.
Cut the turkey steaks into 8 pieces.
Peel the onion, quarter and then cut each quarter in half.
Thread the bacon-wrapped sausages, turkey and onion onto the skewers, allowing 2 of each per skewer.
Peel the carrots and the parsnips and cut into thin matchsticks. Finely slice the sprouts.
Wipe, trim and thinly slice the spring onion.
Thinly slice the pepper into matchsticks, discarding any seeds.
Toss the carrots, parsnips, sprouts, spring onions and peppers together in a bowl.
Barbecue or grill the brochettes for 15 minutes, turning as you cook.
Drain the cranberries and put into a food processor, along with the olive oil, lemon juice, vinegar and oregano – season with a little salt and pepper and process until smooth.
Serve the brochettes on a bed of slaw drizzled with the dressing.