Enjoy a classic cheeseburger with homemade potato wedges and grilled corn on the cob.
BBQ Burgers and Sides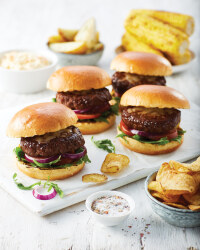 Recipe Information
Ingredients
454g/4 Beef Burgers
4 Brioche Buns
20g Rocket
100g Grated Mozzarella Cheese
2 Tomatoes, sliced
½ Red Onion, sliced
4 Baking Potatoes
4 Corn on the Cobs
1 Coleslaw
1 Mature Cheddar & Red Onion Crisps
Method
Pre-heat the oven to 200°C/Gas Mark 6.
Prick the potatoes with a fork and bake in the oven for 50 minutes.
Boil the sweetcorn in salted water for 5 minutes, then drain well.
BBQ the sweetcorn for 10 minutes, turning until they are slightly charred.
BBQ the burgers for about 10 minutes on each side, making sure that they are thoroughly cooked and are piping hot throughout.
Slice open the buns and grill on the barbecue to toast.
Once baked, cut each potato into quarters.
Top the cooked burgers with the cheese and grill until just melted.
Build the burger by placing rocket, tomato and onion on the base then top with a burger.
Serve alongside the wedges of baked potatoes, corn on the cob, coleslaw and crisps.