Try this colourful super Bean Salad. Packed with protein and fibre. Perfect for lunchboxes!
Bean salad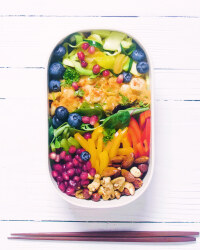 Recipe Information
Ingredients
½ can of white beans, rinsed and drained
½ tsp smoked paprika power (or chilli powder)
½ tsp sea salt and pepper to taste
A handful of fresh herbs, like parsley or basil
1 tbsp olive oil
1 tsp vinegar
Mixed green salad leaves
½ yellow pepper
Some dried fruit e.g. raisins or apricots
Courgette, grated or ribboned with a potato peeler
½ orange, peeled and sliced
1 handful blueberries
Pomegranate seeds
Mixed nuts, dry-toasted and doused in soy sauce to season
Method
Create the courgette ribbons using a potato peeler and slice the orange into small segments.
Combine together to make a refreshing salad.
Add to your lunch box on one side.
Now combine the paprika, olive oil and chopped basil with the white beans.
Mash these together.
Add to the lunch box.
Next, add a layer of salad leaves and chopped yellow pepper to your box.
Add the mixed nuts to a pan and smoke with soy sauce, for just 1-2 minutes.
Add this on top of the salad leaves.
Finally, decorate with blueberries and pomegranate seeds.