Traditional slow cook beef bourguignon recipe. Best enjoyed with crusty bread or mash.
Beef Bourguignon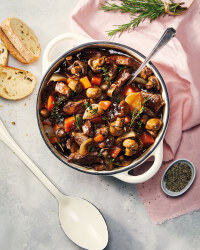 Recipe Information
Ingredients
800g Specially Selected Diced Beef
85g Smoked Pancetta
150g Shallots, peeled and halved
2 x Carrots, peeled and cut into chunks
2 x cloves of Garlic, crushed
75ml Red Wine
1 x Quixo Stock Cube
2 tbsp Rapeseed Oil
1 x sprig Fresh Rosemary
1 x sprig Fresh Thyme
½ tsp Salt
½ tsp Pepper
Optional - 1 tbsp The Pantry Cornflour and 1 tbsp cold Water
1 tbsp Butter
200g Button Mushrooms
To Serve
Specially Selected Sourdough Baguette or Inspired Cuisine Mashed Potato
Method
Pre-heat the oven to 170°C/150°C Fan/Gas Mark 3.
Heat 1 tablespoon of the oil in a large, hob-safe, casserole dish. In small batches, brown the beef and then place on a plate to one side.
Next, add the remaining oil into the pan, followed by the pancetta. Cook for a couple of minutes until the pancetta has started to crisp, then add the shallots and cook for 2 to 3 minutes until they have browned and the pancetta is crispy. Add the crushed garlic and the carrots to the pan and then, over a medium heat, pour in the red wine.
Next, add the beef back into the pan along with 150ml of boiling water and the stock cube, rosemary, thyme, salt and pepper. Place the lid on the casserole dish and transfer to the oven, then cook for 2 hours.
After 2 hours, heat the butter in a small frying pan and sauté the mushrooms for 5 minutes until they have browned. Add the mushrooms to the stew and if the sauce is thick enough then cover with the lid and roast for 20 minutes more. If you want to thicken the stew, mix the water and cornflour and add to the stew along with the mushrooms.
Serve the beef bourguignon hot with fresh crusty bread or mashed potato.