This excitingly unorthodox muffin recipe is bound to surprise your tastebuds - we're sure you'll love it!
Beetroot & Chocolate Iced Muffins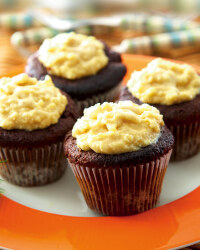 Recipe Information
Ingredients
175g Cooked Beetroot
3 x Large Free Range Eggs
200g Self Raising Flour
100g Instant Hot Chocolate
200ml Vegetable Oil
1 x 200g bar Dark Chocolate
65g Cream Cheese
40g Creamy Butter Unsalted
½ tsp Rich Roast Instant Coffee
300g Caster Sugar
Find your ingredients online on Click & Collect or find your nearest store using our Store Finder.
Method
Pre-heat the oven to 190°C/375°F/Gas Mark 5.
Place 12 muffin cases into a muffin tray.
Chop the beetroot into chunks and put into a food processor, then whizz until pulp, (or chop the beetroot as finely as you can).
Put the beetroot into a bowl and add the eggs, flour, 200g caster sugar and instant hot chocolate powder.
Mix well, and then beat in the oil slowly.
Grate or chop the chocolate finely and fold into the mixture.
Add the mixture into the muffin cases and bake for 20-25 minutes in the oven.
To make the icing: in a bowl beat together the cream cheese, butter, remaining caster sugar and the instant coffee powder.
Once the cakes are cooled, decorate with the icing.