Beetroot Red Velvet Pancakes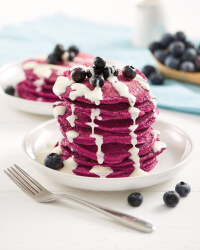 Recipe Information
Ingredients
160g Cooked Beetroot
200g Self Raising Flour
100ml Milk
1 tsp Baking Powder
50ml Squeezy Honey
25ml Vegetable Oil
1 tsp Vanilla Essence
2 Large Eggs
200g Soft Cheese
30g Caster Sugar
Juice of 1 Lemon
150g pack Blueberries
Extra Vegetable Oil, for frying
Method
Chop up the beetroot and put into a food processor along with the milk, vegetable oil, honey, vanilla essence and the eggs, then blitz until smooth.
Put the flour and the baking powder into a bowl and whisk well. Make a well in the centre of the flour, add in the beetroot mixture and, with a wooden spoon, draw in the flour and mix until you have a smooth batter.
In a frying pan, heat a little oil. Add 4 tablespoons of the batter into the pan, spoon into a circle and fry each side for a few minutes. Transfer to a warm oven to keep the pancakes warm while you cook the rest.
To make the cream cheese sauce, gently heat the soft cheese, caster sugar and lemon juice in a pan until smooth and warm. Serve drizzled over the pancakes, topped with the blueberries.