Sweet coffee loaf topped with biscuit spread, mascarpone cheese and caramelised biscuits.
Biscoffee Loaf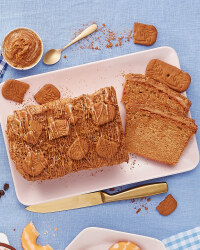 Recipe Information
Ingredients
For the sponge
225g Baking Margarine
225g Caster Sugar
225g Self Raising Flour
1 tsp Baking Powder
1 tbsp Coffee (dissolved in 50ml hot water)
4 Medium Eggs
For the topping
175g Biscuit Spread
250g Mascarpone Cheese
8 Caramelised Biscuits
Method
Pre-heat the oven to 160°C Fan/Gas Mark 4.
Grease and line a 900g loaf tin.
Place all the sponge ingredients into a mixing bowl and whisk for a minute until combined and the mix drops easily from a spoon.
Spoon the mixture into the loaf tin and bake for about 45 minutes, until the sponge is risen and firm to touch.
Allow to cool and then remove from the tin.
Beat the biscuit spread and mascarpone cheese together, then pipe or spread onto the cooled loaf.
Decorate with caramelised biscuits and slice to serve.