Blackberry Vodka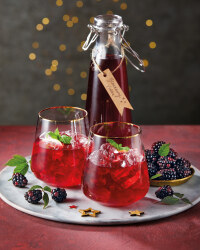 Recipe Information
Ingredients
500g Blackberries
500ml Vodka
100g Caster Sugar
1 tsp Vanilla Extract
Method
Combine all the ingredients in a large Mason jar.
Stir and store in a cool, dark place for at least 6 weeks (between 6 and 12 weeks is ideal).
Give the jar a shake once a week to distribute the ingredients (don't worry if the berries turn grey or lose their colour, this is perfectly normal).
When you are ready to gift or drink your vodka, secure a piece of muslin cloth or a very fine sieve over a bowl and strain the liquid to remove any left-over fruit or seeds.
Decant the vodka into a clean bottle.
Consume within 12 months.