Perfect for any budding baker, these fruity cake desserts are a great way to spend your Sunday.
Blueberry & Blackcurrant Mini Bakewell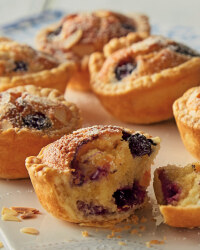 Recipe Information
Ingredients
1 x 375g Sheet Greenvale Ready Rolled Shortcrust Pastry
100g Grandessa Blackcurrant Jam
55g Greenvale Unsalted Butter
55g The Pantry Caster Sugar
1 x large Egg
45g The Pantry Ground Almonds
10g The Pantry Flaked Almonds
1 x tsp Vanilla Essence
15g The Pantry Plain Flour
36 fresh Blueberries
12 hole pie tin
Find your ingredients online on Click & Collect or find your nearest store using our Store Finder.
Method
Pre-heat the oven to 170ºC/325ºF/Gas Mark 3.
Unroll the pastry and use an 8cm round cutter to cut 12 rounds out of the sheet.
Lightly grease the pie tin.
Put the pastry rounds in the holes.
Put a small teaspoon of the jam on top of the pastry.
In a food processor mix the flour, egg, butter, caster sugar, ground almonds and vanilla essence until smooth and well blended.
Divide this between the pastry cases.
Put 3 fresh blueberries on the top of the batter and sprinkle over the flaked almonds.
Bake in the oven for 20-25 minutes until golden and risen.