Soft cheese and blueberries wrapped in puff pastry.
Blueberry Cheese Turnovers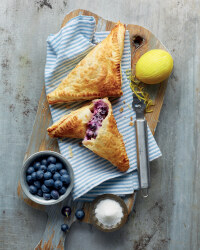 Recipe Information
Ingredients
150g punnet fresh Blueberries
375g pack Greenvale Puff Pastry
125g Soft Cheese
60g The Pantry Caster Sugar
Grated rind from ½ Lemon
1 large Egg Yolk
Little extra Caster Sugar to sprinkle
Method
Pre-heat the oven to 200°C/400°F/Gas Mark 6.
Put the grated lemon rind, caster sugar and soft cheese in a bowl and mix well.
Roll out the pastry and cut into 3 strips down the long side – approx. 12.5cm each.
Then cut these into half lengthways to give you 6 squares.
Divide the soft cheese mixture between the squares and spread over them, leaving a 1cm border.
Brush this edge with the egg yolk.
Divide the blueberries between the squares.
Fold over the pastry to form a triangle and enclose the filling.
Use a fork to gently press down the edges.
Brush the turnovers with the egg yolk and sprinkle with some caster sugar.
Put onto a baking tray and bake for 15 minutes until golden and puffed up.