This tangy and decadent recipe is an absolute must for any ice cream lover.
Blueberry Ripple Chesecake Ice Cream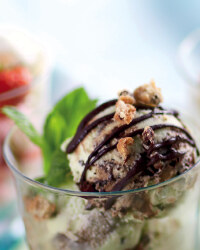 Recipe Information
Ingredients
Ice Cream:
300ml Cowbelle Double Cream
300ml Cowbelle Whole Milk
1 tsp vanilla extract
120g The Pantry Caster Sugar
3 Free Range Egg Yolks
200g The Cheese Emporium Soft Cheese
Blueberry Ripple:
150g Blueberries
3 tbsp Water
1 tbsp The Pantry Corn Flour
2 tbsp The Pantry Caster Sugar
Juice of half a Lemon Biscuit topping: 200g Belmont Digestive Biscuits
Find your ingredients online on Click & Collect or find your nearest store using our Store Finder.
Method
The day before you want to make the ice cream put the canister from the machine into the freezer to freeze overnight.
Pour the double cream, milk and vanilla extract into a pan and heat on low until the mixture is steaming and starting to form small bubbles around the edge but do not boil.
While the milk and cream is heating place the egg yolks and caster sugar in a bowl and whisk for a couple of minutes until the mixture has thickened and is pale in colour.
When the milk and cream mix is ready, add to the egg yolk mixture stirring constantly.
Pour this back into the pan and return to a low heat until the custard has thickened enough to coat the back of a spoon.
At this point take the custard of the heat and add the soft cheese, stirring until all the lumps have disappeared.
This mixture needs to be left to cool in the fridge for 1-2 hours stirring occasionally so no skin forms.
When it has cooled, take the ice cream maker out of the freezer, pour in the cooled mix and follow the ice cream maker instructions.
While the ice cream is churning, make the blueberry ripple.
First place the corn flour and water in a pan and stir until all of the lumps disappear.
Then add the lemon juice, blueberries and sugar to the pan.
Place on a low heat and cook while stirring until the blueberries soften (this will take about 10 minutes).
Cover and keep to one side until the ice cream is ready.
When the ice cream machine is ready it may still be quite a soft mixture so place into a large Tupperware box and stir through the blueberry sauce to create a ripple effect.
Place in the freezer for 1-2 hours until firm.
To complete the ice cream place 2 scoops in a bowl and crumble some digestive biscuits on top.