A fun recipe for kids in the kitchen! Recipe makes 6.
Blueberry Waffles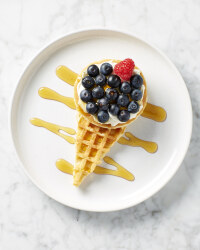 Recipe Information
Ingredients
2-6 Sugared Waffles
6 Scotch Pancakes
200g Soft Cheese
2 small packs of Blueberries
6 Raspberries
120ml Maple Syrup
Method
Warm the waffles and pancakes.
Cut your waffles so you get 6 cone-shaped triangles.
Place each one onto a small plate that has been drizzled with maple syrup.
Spread soft cheese liberally onto the scotch pancakes and place one at the top of each 'cone'.
Decorate with blueberries, then add a raspberry to each to finish it all off!