Grapefruit and thyme, a winning combination for any cocktail.
Blushing Thyme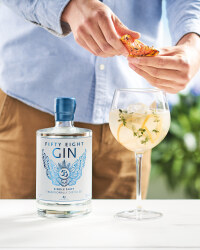 Recipe Information
Ingredients
100ml Gin
1 pink Grapefruit
4 sprigs of fresh thyme
Tonic water
Ice cubes
Method
Peel some skin strips from halve the grapefruit using a canaling knife.
Cut the grapefruit in half and squeeze the side that you've taken the skin from.
Cut the other half into 4 quarters.
Using a griddle pan char the segments till blackened.
Mix the gin and grapefruit juice together in a small jug.
Fill two large gin glasses with ice, divide the grapefruit rind and thyme between the two glasses.
Pour over the gin mix and squeeze the burnt segments of grapefruit over the cocktails, then drop them into the glasses.
Top with tonic water.
Swirl well with a cocktail stick then serve.