Bonfire toffee for kids and parents to enjoy. The perfect treat for watching fireworks.
Bonfire Toffee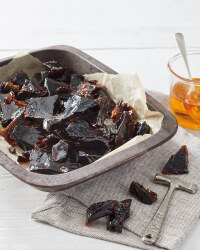 Recipe Information
Ingredients
400g Demerara sugar
100ml boiling water
1/4tsp Cream of tartar
300g Golden syrup
Method
Line a baking tray with grease proof paper and coat with a little oil.
Simmer the demerara sugar in the boiling water over a medium heat until fully dissolved.
Once fully dissolved, add the cream of tartare and golden syrup stirring just enough to mix with the sugar.
Bring to 145 degrees celsius and pour in to the tray.
Allow to cool, and use a toffee hammer or rolling pin to break up.