Wholewheat soft tortillas are topped with tomato and pepper omelettes, then rolled up. Perfect for a tasty breakfast or wrap up for a packed lunch.
Breakfast Burritos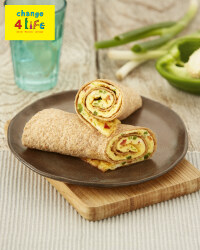 Recipe Information
Ingredients
4 soft wholewheat flour tortillas
6 eggs
4 tbsp 1% fat milk
2 tomatoes, finely chopped
2 spring onions, finely chopped
1 pepper, any colour, deseeded and finely chopped
2 tsp vegetable oil
40g reduced-fat hard cheese, grated
1 pinch ground black pepper
Method
Lay out the tortillas on a work surface. Preheat the grill.
Beat the eggs and milk together.
In a separate bowl, mix together the tomatoes, spring onions and pepper, seasoning with black pepper.
Heat ½ tsp of vegetable oil in a non-stick frying pan and pour in one quarter of the beaten egg mixture.
Cook on the hob over a medium heat for a few moments to set the base.
Sprinkle one quarter of the tomato mixture over the surface, then sprinkle 10g of the cheese over the top.
Grill to set the egg and melt the cheese.
Place the cooked egg mixture on top of one tortilla and wrap.
Repeat this process until all four tortillas have been filled and wrapped
Recipe provided by Change4Life