This tasty vegetarian stir-fry is a quick and easy meal, guaranteed to satisfy your tastebuds.
Broccoli Chilli and Soy Stir Fry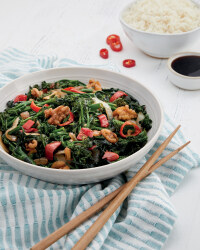 Recipe Information
Ingredients
600g Broccoli
90g Walnut
2 Cloves Garlic
30g Honey
2 Red Chillies
1 Large Onion
50ml Soy Sauce
1 tsp Sunflower Oil
Find your ingredients online on Click & Collect or find your nearest store using our Store Finder.
Method
1. Finely chop the garlic and chilli and then slice the onion.
Prepare the broccoli by removing the florets from the main stalk and then cut into bite size pieces.
Heat the sunflower oil in a wok or large frying pan and add the garlic, chilli and onion.
Stir fry for a couple of minutes and then add the broccoli.
Cook for 3-4 minutes until the broccoli is beginning to soften and then add the soy sauce and honey and cook for 1-2 minutes.
Finally add the walnuts and then serve with rice.