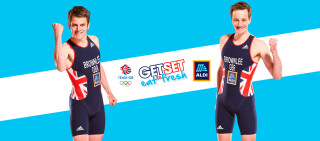 Medal winning partnership with the Brownlee Brothers and Aldi
Aldi's four-year partnership with the Brownlee Brothers is the perfect fit for both the athletes and Britain's best value supermarket. Together we will inspire the nation to access fresh, healthy, affordable food as the preparations for Tokyo 2020 get underway. The Olympic gold and silver medalists understand more than anyone the importance of eating well and keeping active and will use their experiences to inspire the country's younger generations.
Get cooking
Make a change to your family menu and choose from a whole range of tasty and healthy meals online. Explore our delicious and easy-to-make recipes for breakfast, lunch and dinner ideas. No matter your skill, there's a medal winning meal just for you.
Get Set to Eat Fresh
This amazing school initiative was launched with Team GB to promote healthy eating amongst school children aged 5-14. Through free materials and school visits from athletes such as the Brownlee Brothers, we help teachers and parents celebrate healthy food with their children and show them the benefits of healthy meals.

Brownlee Foundation
Since 2014, The Brownlee Foundation has provided amazing sporting experiences for school children through organised triathlon events, as well as offering coaching development for teachers across Britain. Aldi became proud partners in the foundation in 2017 and will now support the amazing work going forward. Get involved by searching for an event near you and signing up.